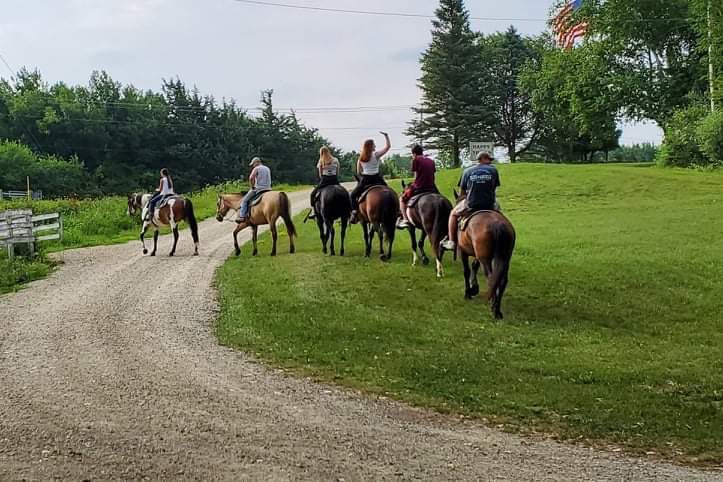 IMPORTANT NOTE:

Please arrive 15 minutes prior to your ride time

(this provides time to get on your horse and to get out on time).
Hours of Operation
Open April-November, depending on the weather.  Hours vary daily.
We are operating Doby Stables around our existing jobs and family schedule, so ride times vary daily.  Rides can depart anywhere between 9 am and 4 pm.  To accommodate our schedules and our clients needs, all rides are by reservation only.  When making reservations we will need to know the number of riders and which ride you prefer.
Please text or call for available ride times. 
1 Hour State Park Ride
$45/person (Tax included)
The 1 hour state park ride is a guided horseback ride through Governor Dodge State Park. You will enter the trail through a tunnel under the highway and into the park. You will see elements of nature along the ride and many pretty sights. For this ride, you also need a trail pass (required by the DNR for anyone 16 and older). The trail pass costs $5 for a daily pass or $25 for the annual pass.  All passes are for sale at the stable.
Available May 1st-November 15th
Children (4 and under)
Any child riding double with an adult will be $20 for the ranch ride or park ride.
Helmets are not provided but you can bring your own if desired.
By Wisconsin Law understand that you are riding at your own risk. Doby Stables LLC cannot be and is not responsible for the actions or suitability of the horse.
Please Note:
For the safety of you and our horses, the weight limit is 250 pounds